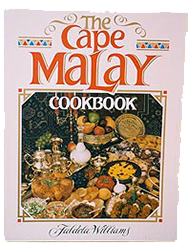 The Cape Malay Cookbook, Faldela Williams
The author of this book grew up in District Six, the once lively neighbourhood a few blocks away from the Cape Town harbour; filled with people from different cultures, live music and the smells of spicy food. In a joyful and simple way, we are inspired to cook classic recipes from the Cape Malay kitchen, to bake their traditional breads, and enjoy their fantastic pastries and cakes for every days and festive days. This book is more than a cooking book; it introduces us to the colourful Muslim Cape Malay culture and its unique dishes. All recipes are adjusted to suit our modern living and simplified so that is becomes easy, exciting and tasty.
The book is in English and all measures follow the metric system.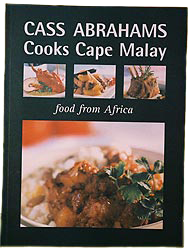 Cass Abrahams Cooks Cape Malay, Cass Abrahams
This book celebrates the Cape Malay kitchen and the colourful people of this culture. Enchanting photographs invites us to their traditional cooking, the way it was shaped by families for more than 300 years, and how it is now served in some the finest restaurants in Cape Town. Every chapter tells stories about the function of the food in the different festive and religious occasions of the Cape Malay culture. We are invited to share a colourful part of South Africa and to learn to cook food that now inspires the whole world. This is food that is easy to love with its warm spiciness and charm.
The book is in English and all measures follow the metric system.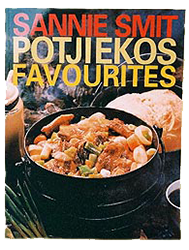 Potjiekos Favourites, Sanne Smit
Potjiekos means ?food cooked in an African cast-iron pot? ? a potjie. In South Africa, it also means a feast! Meat in different forms, chicken, shellfish, and vegetarian ? you can cook everything in a potjie! You can even bake bread and make delicious desserts. Here we are inspired to cook food that won prizes in different ?potjiekos-competitions? in South Africa. We find out how to do it and what ingredients to use. Beautiful colour photos tempt us to try this relaxing form of cooking – perhaps in a beautiful spot accompanied by good friends!
The book is in English and all measures follow the metric system.