Welcome to Baobab Kitchen
Baobab Kitchen is our pride – a small restaurant where we cook African meals and bake in our outdoor kitchen together with our pre-booked guests (from 10 persons). Here, you will meet new fragrances and flavours, feel African vibes, inspired by the colourful atmosphere and African music, and perhaps a story. When everything is ready, you will sit together in the company of your friends, enjoying your meal. Fires are crackling and oil lanterns burning. Baobab Kitchen is the life nerve in Taste of Africa since 2005. We have had hundreds, or rather thousands of guests in the ages between 1 and 90, and we love it!
Easy and relaxing – Our ambition is that cooking in Baobab Kitchen should be easy, relaxing and absolutely wonderful. Therefore, almost all preparations are done before you come. Wood fires burning nicely in the kitchen, setting free your creativity and freedom of cooking over the fires 🙂 You book Baobab Kitchen for four hours between 13 and 22. from May until September, not every day, because we also have days when our Café is open, or have other activities planned. When you make contact, we'll give you a list of options for a suitable day. Bring it up when we meet at the shop or Café, or send us an email at info@taste-africa.com or call 0702642109. It usually works out fine to make a preliminary booking. At the time of booking, we'll let you in on details regarding possible cancellations of firm bookings.
Planning – When you make a firm booking, we need to know your wishes, and what recipes you would like to cook here. If you want, we can give a surprise menu, or create a menu that will suit the size of your group and your wishes. It's very important for us that everybody can enjoy the moment. Therefore, we need to know these things in advance, and especially if there are any allergies or food preferences (vegetarian, vegan, lactose, gluten etc). Everything you will need is here! Table water & warm drinks are included, but you are welcome to bring your own drinks of your choice. Hakuna matata 😉 No problem! Please, ask us questions – we like that! 🙂 Warm welcome to an unforgettable time in Baobab Kitchen.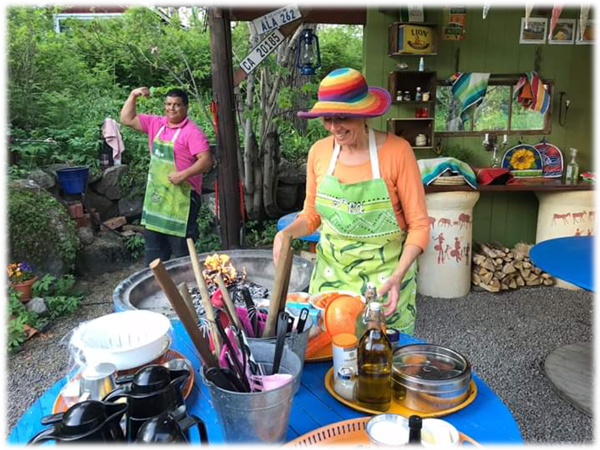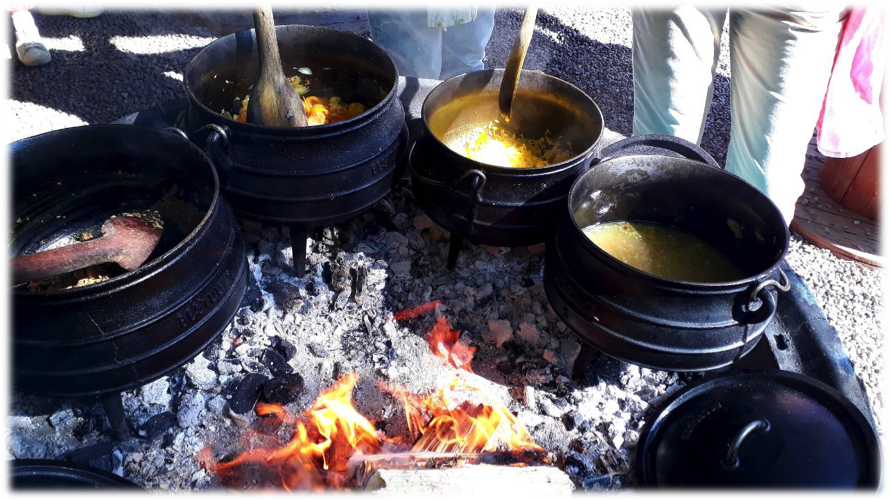 Freedom of cooking over fire
Our passion with Baobab Kitchen is to offer flavours that vibrate of African food joy, but also for you to experience the freedom of cooking over fire. Everyone in the group work in smaller teams to create the dishes for the menu. If there are many dishes to make, you will probably participate in more than one cooking team. There are no ON and OFF buttons, almost no measuring cups and no stopwatches. That's the fun part! Together with us, you will be creative, trying many of our sauces, spice blends, but also discovering the freedom in how nice it is to let the cooking take time. It's real SLOW FOOD, in a way that we make slowly cooked food from genuine recipes, using thoroughly selected raw ingredients.
We select our ingredients carefully
For us, it's important to carefully select ingredients with good quality as well as sustainability in mind. Very often the two go hand- in-hand! What this means to us is buying locally grown veggies and fruits, if the time of season allows it. In addition, we may vary our recipes accordingly. Of course, we cannot only use Swedish fruits and vegetables – if so – it wouldn't be an African restaurant. 😉 So when you come to cook with us, you are in for a treat of a nice selection of vegetables. To sustain a healthy life and environment for us all, all our recipes were upgraded to include lots (50%) more fresh veggies, and less (50%) meat or chicken. We only use Swedish (KRAV) organic meat from farms nearby, and Swedish chicken in Baobab Kitchen. Where possible, we choose organic and locally sourced ingredients. Some things. like milk, bananas, & cocoa, for instance, are always organic. We use real butter and much LOVE in our baking. The eggs are from outdoor hens on local farms nearby or organically labelled. Our ice cream is made from real vanilla & cream. We refrain from using MSGs e.g. sodium glutamate (E621).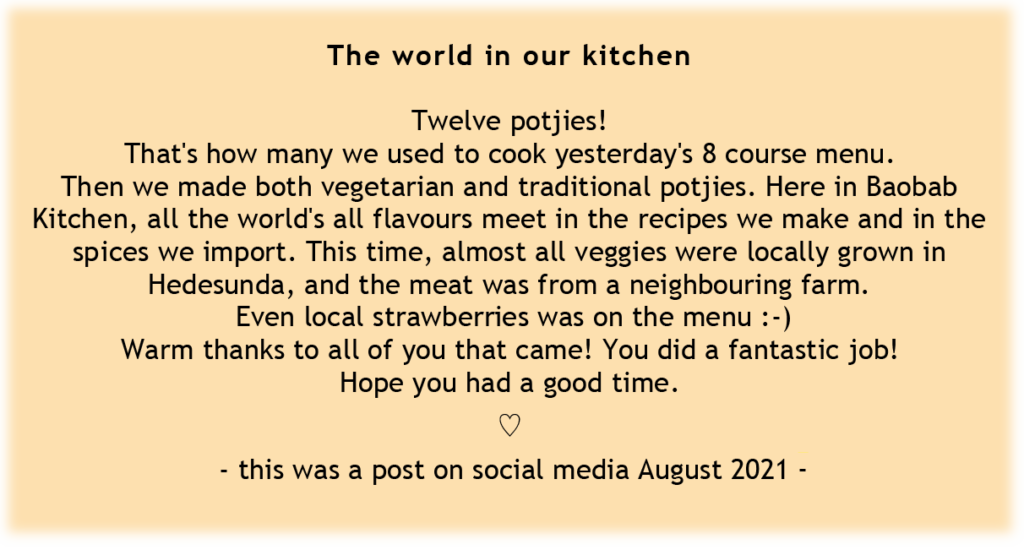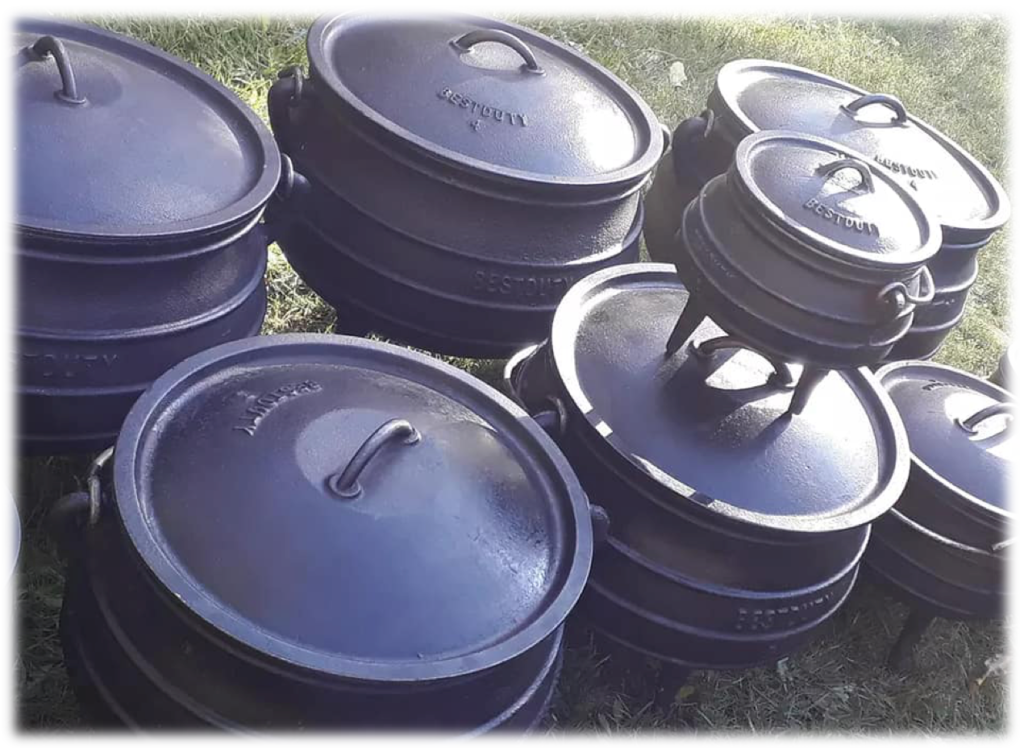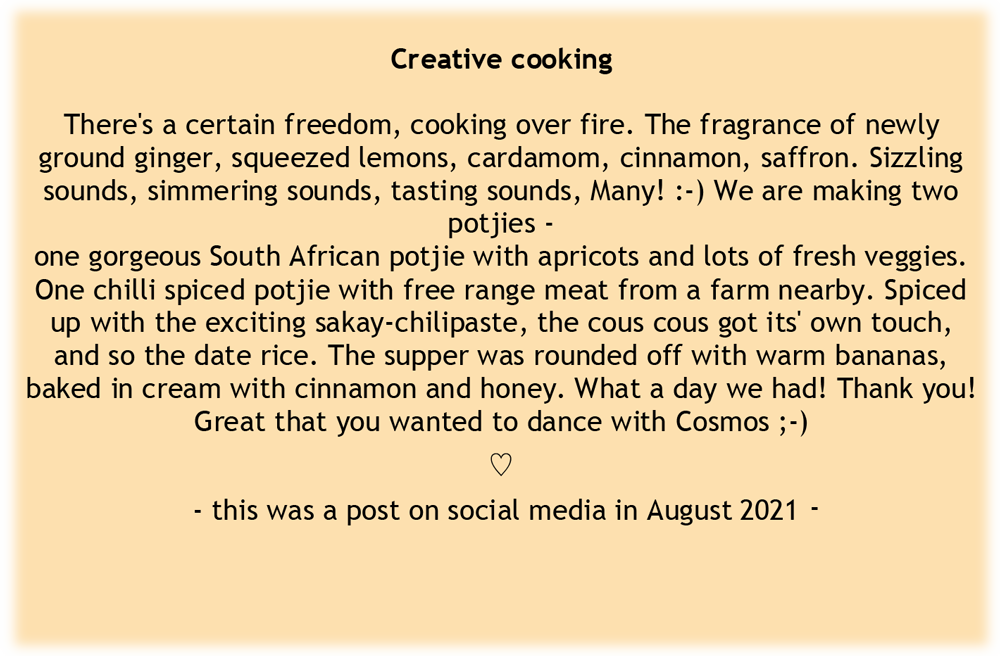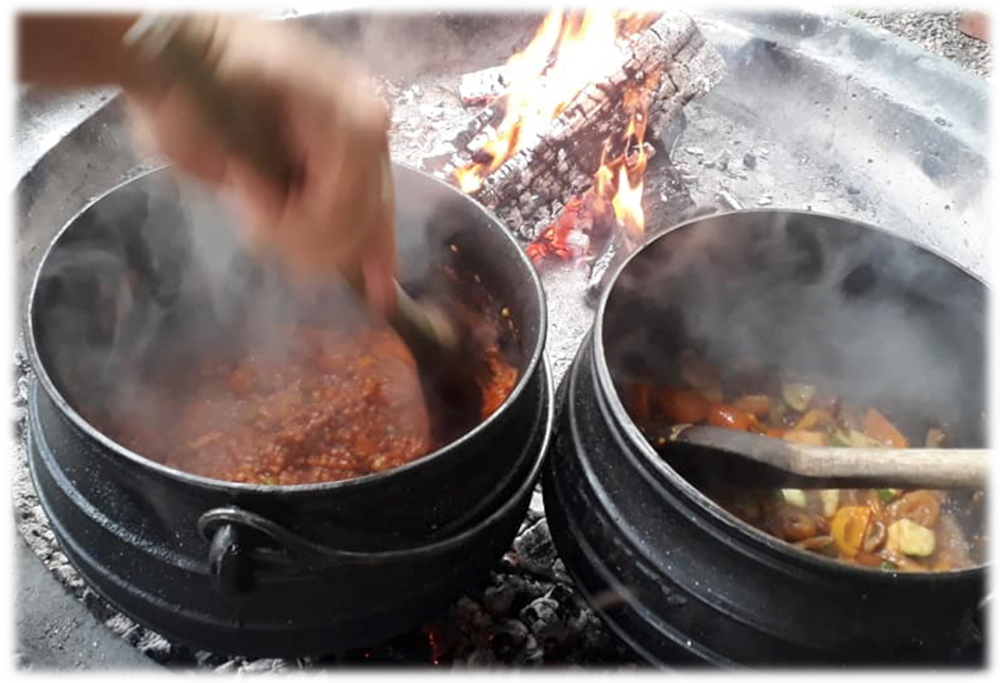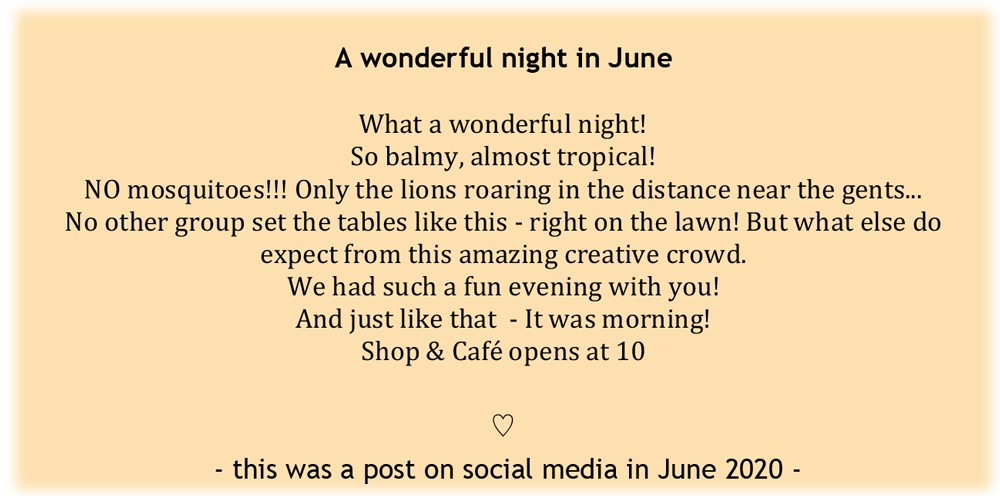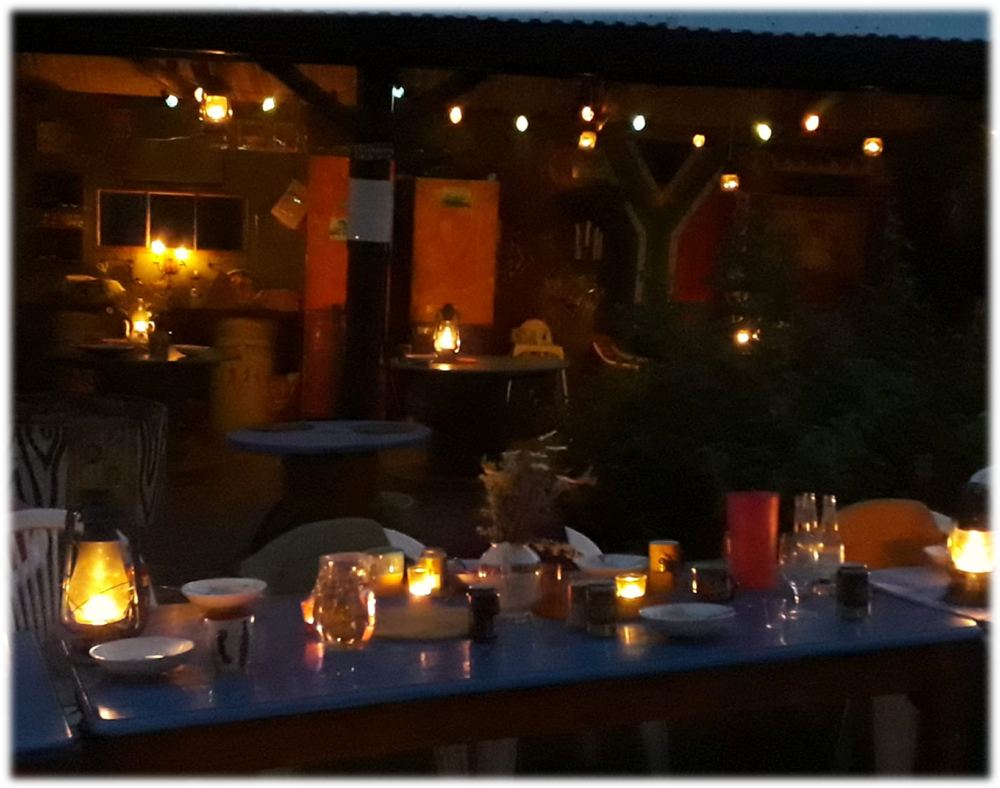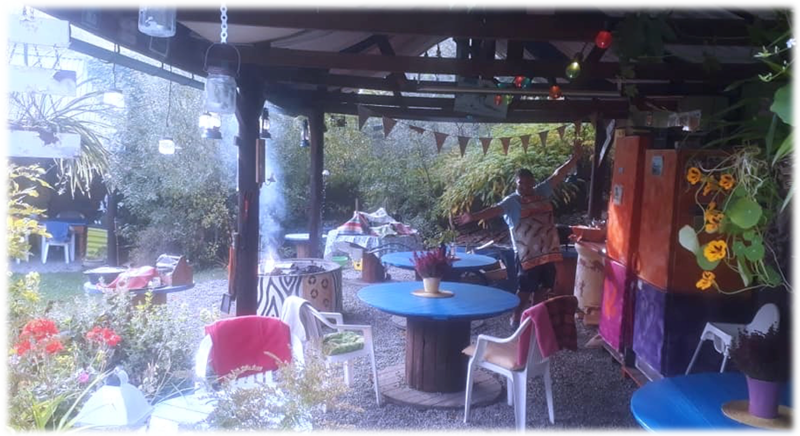 Afrodance cooking - 11th of August- an open evening in Baobab Kitchen
It's the nineth year that we arrange Afrodance cooking in Baobab Kitchen. It's an evening in Baobab Kitchen that you will never forget! Come alone or in a group of friends and join us when we cook over fire. Your fantastic meal is served in the light of safari lamps, oil torches and the fires. The dance will take place at the end, with our friend Cosmos Azoba, an accomplished dance choreographer that will engage you in a fun dance routine that suits everybody. Bring comfortable shoes and a happy spirit for night to remember, with great food and many new friends. Book through email to info@taste-africa.com. The price is 770 kr, and it includes the dancing. Children under 15 will get a discount. When you make a booking, please let us know your wishes regarding allergies, gluten, if you're vegan etc. We will create a menu that suits everybody. We'll let you in on more details at the time of your booking. Our maximum number of participants is 30 so don't wait too long before you book. Warm welcome! We speak English, Afrikaans & French – all nationalities welcome!
African dance – If you wish like to dance afrodance with Cosmos as an activity on your day in Baobab Kitchen, please enquire and we will find out if he is available what it costs.
Happy voices, African drums, smiles in the light of fires and oil lamps, freshly baked bread, steaming pots with exciting flavours, scents of citrus, cinnamon, honey & the smoke from the fires – a mix of smells and a growing apatite. Then, the peace and quiet after you have finished eating and the velvet night wraps you into a blanket, a crackling fire, the stars are alight…The hosts of Baobab Kitchen could gossip about magic moments, but "What happens in Africa stays in Africa" :=). Warm welcome! Åsa & Nolan
Stories under the African Baobab tree
Many Africans believe that there is no such thing as a young Baobab. These trees can be enormous and up to 3000 years old. They are probably the oldest life forms in Africa. In the hot dry savannas, a Baobab forms a natural meeting point for the village, a landmark, and a source of raw material. The fibrous bark from the fat trunkis used to make baskets, ropes and hand-platted floor mats. Only a portion of the trunk is used each time and the injury heals rapidly. This makes the harvesting of the bark ecologically sustainable.
The name 'Baobab' is KiSwahili but all countries where the Baobab grows have their own names for this beautiful gigant. In South Africa, a Baobab is called Kremetartboom by Afrikaans people, umShimulu, isiMuhu and isiMuku by the Zulu.
There are many legends and myths about the Baobab. Because the tree looses its leaves in the dry season, it is said that God planted the tree upside-down, with its roots in the air. If you pick the flower of a Baobab, you risk to be attacked by a lion, because the flowers of Baobabs contain lots of spirits. There are also those who believe that if a man drinks an infusion of the bark, he will be protected from crocodiles and become very strong.
We choose the name 'Baobab Kitchen' because of the intimate way Africans live with their Baobab. It is a place in the shade where people meet, eat, and talk to each other – a social tree for social people.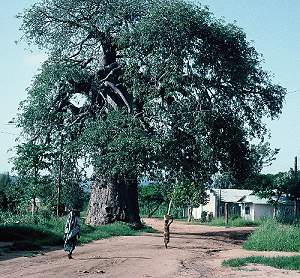 Knowledge is like a Baobab tree – one person's arms are not enough to encompass it.
– an old African proverb –