Freedom of cooking over fire
To cook over fire gives us a sense of freedom and relaxation in an otherwise technical world. In your outdoor kitchen, or at your fireplace, temperatures are not determined by on- and off buttons or timers. Here it's the heat from the fire that you lit, the glowing coals under your cast-iron pot, a wooden potjie spoon and your ingredients. Nothing else. It's pure joy to smell the flavours when they develop, and to listen to a simmering potjie. In this section, we would like to inspire by telling you more about cooking and baking over fire in way that people have been doing for thousands of years across the world.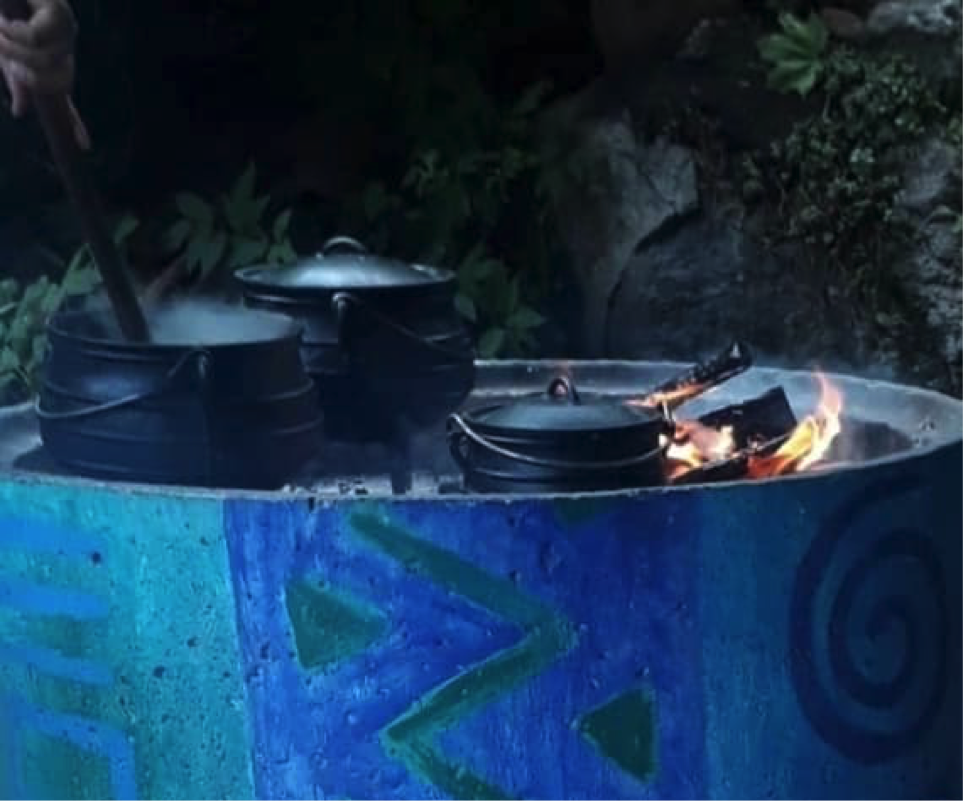 It started with a love affair
It was in South Africa it all happened. Everything started with the love of a country, and the gorgeous cast-iron pot, locally called potjies. It's here the pots are made, and where we found our first inspiration for new recipes and spice blends. It was in South Africa that we laid the foundation of our company and business idea. It was here Åsa bought her first three-legged potjie in a hardware store, and Nolan cooked a lovely curry over fire in it. It was here Nomsa showed Åsa how to bake in a bakepot for the first time. For Nolan, who grew up in South Africa, the potjie has always been a natural companion to a camping holiday or to the family garden party. Since the start of our business in 2005 we have developed our own methods and recipes, so that it should be easy to cook and bake in potjies. In our restaurant Baobab Kitchen we cook several course meals together with our guests. We bake bread and make deserts. There is lots to discover! Welcome! 🙂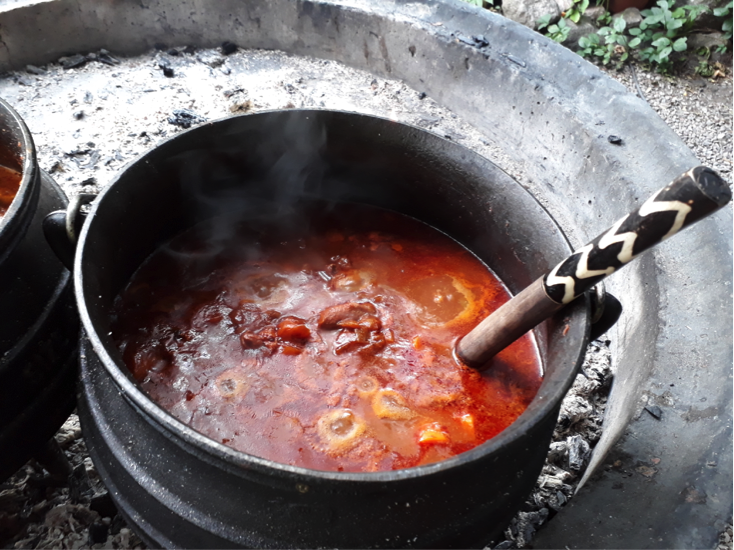 South Africans love their potjies
Potjies were brought from Europe to South Africa by the first settlers that came with boats and settled down on the southernmost tip of the continent. Over centuries, the pots were weaved into the South African culture and today, they are used by all different cultural groups in the country. The potjie pot has moved on from being a necessity and perhaps the only way of preparing a meal, to now being a major part in festivities in cities and in countryside villages.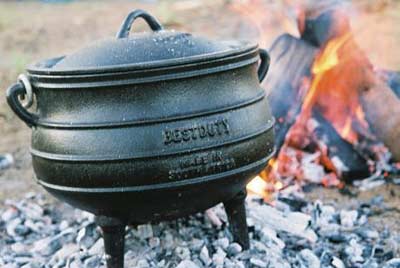 Country style cooking and baking for many. Photo courtesy of Nomsa Maliwa, Qumbu, Transkei, South Africa
If you only want one potjie for cooking over fire, the definite choice is the elegant three-legged potjie. We recommend a potjie size 1 for 1-3 persons, a potjie size 2 for up to 6 persons, while a pot size 3 will suffice for 10-12. Some of the smaller potjies are available without legs in a flat design. They are usually hanging from a chain or placed on a grid. They can also stand on a tripod, which can be moved closer or away from the heat in order to reach optimal conditions. They are flat underneath but not planed. They can be used on a iron hotplate or over a gas stove. This adds a new dimension, allowing you to use the potjie without a fire. We have been told that long term usage of a gas burner may weaken the quality of the cast-iron, altough occasional heating by gas will not seriously harm the potjie. There is however a slighty higher risk of burning the food while cooking over gas because of the higher temperatures. A three-legged potjie that is used to cook over fire will become the family's friend for many generations. If you are careful and adjust the heat and add liquid when necessary, it's rare that the food gets burned. The rounded inside of the potjie has a coarse finish for a reason. It helps to create a film of vapour between the potjie and the food, allowing the food to cook slowly on gentle heat. It's real slow food!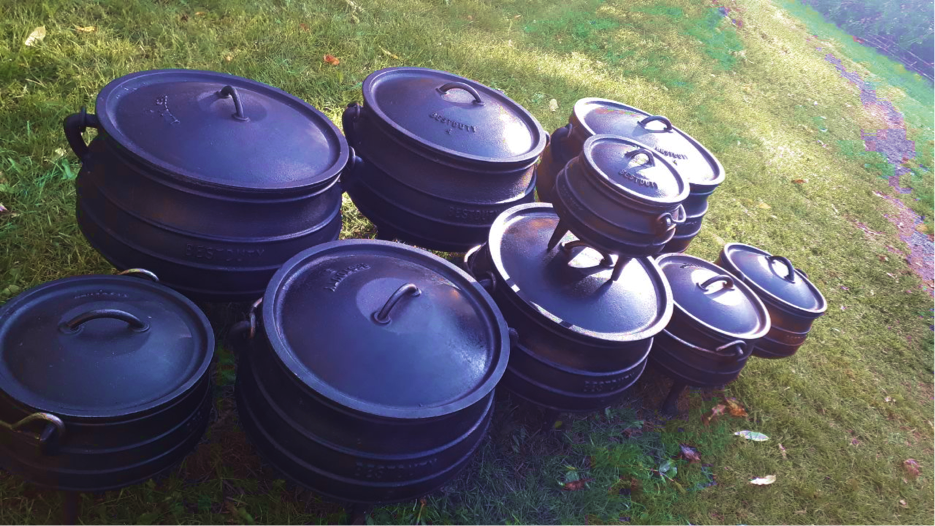 Over the years, we have sold three-legged pots in sizes from 0.25 L up to approximately 25 L. The smallest potjies are fine if you are making a sauce or a smaller amount of food. Although, we find the larger pots heavy and quite a lot to handle. Instead of having one large potjie for a big group of people, we now recommend a combination of several smaller sized potjies (sizes 1-3). This gives more flexibility. In addition this gives more chefs the opportunity to work near the fire, which is fun. We can try to order a larger sized potjie if you ask us, and it will definitely take time because we only import potjies once a year or every two years.
Some nostalgic photos from our first website. Here's a large potjie size 14 and our son was two years old, he is now over 18 🙂 (left).
Here's the size difference between a three-legged potjie size 2, and a flat potjie size 3 (right). All our potjies and their sizes are shown in the Webshop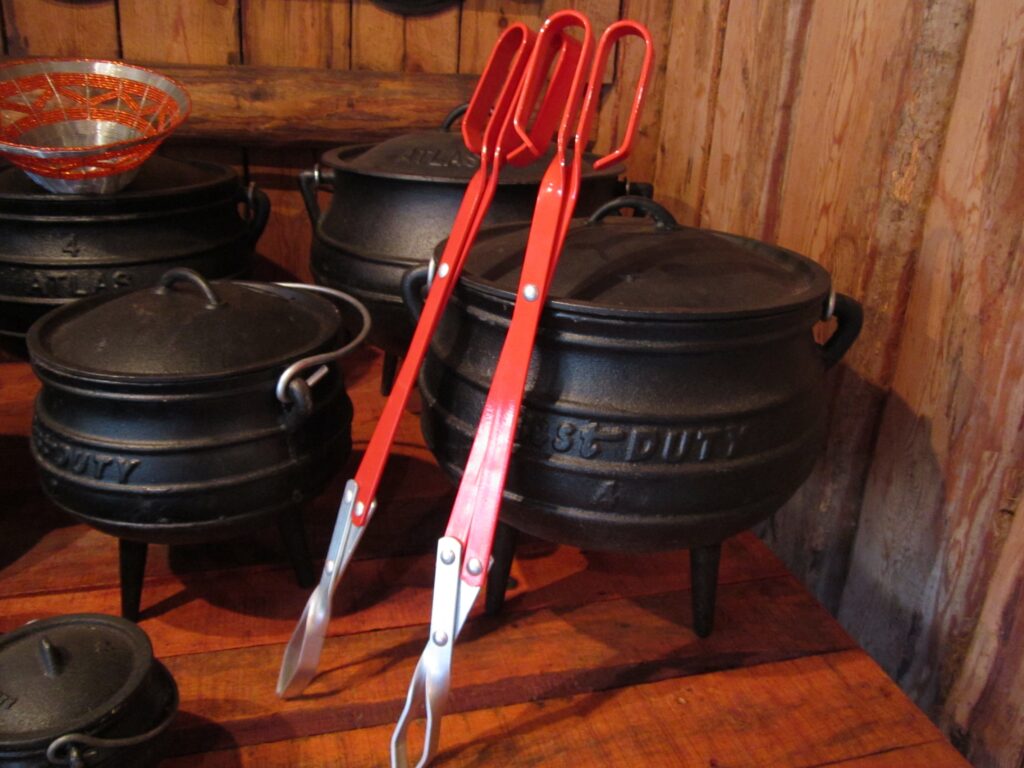 The bakepot is a pot and an oven
The bakepot has straight sides so that you can easily flip over your bread onto a cutting board. The lid is shaped to hold hot coals, adding heat from the top. We say that it's a pot and an oven, because everything you usually do in an oven, you can also do in a bakepot. Place the bakepot in a hot area in your fireplace, but not in direct contact with the fire. This usually works best if you make a fire to heat a specific place. Then, after a while, you move the fire to another spot, and then place your pot in the heated space. It is sometimes needed to move the fire, so that your pot can have access to a new warm spot after a while. For about twenty years now, we have worked to develop and improve the method of using bakepots in the large fireplaces in Baobab Kitchen, using heat that comes evenly from under, the sides, and on top of the bakepot. Take a look a bit further down to see how we built these fireplaces. We often get questions and like to share ideas for you who have dreams or plans of making an outdoor kitchen like ours.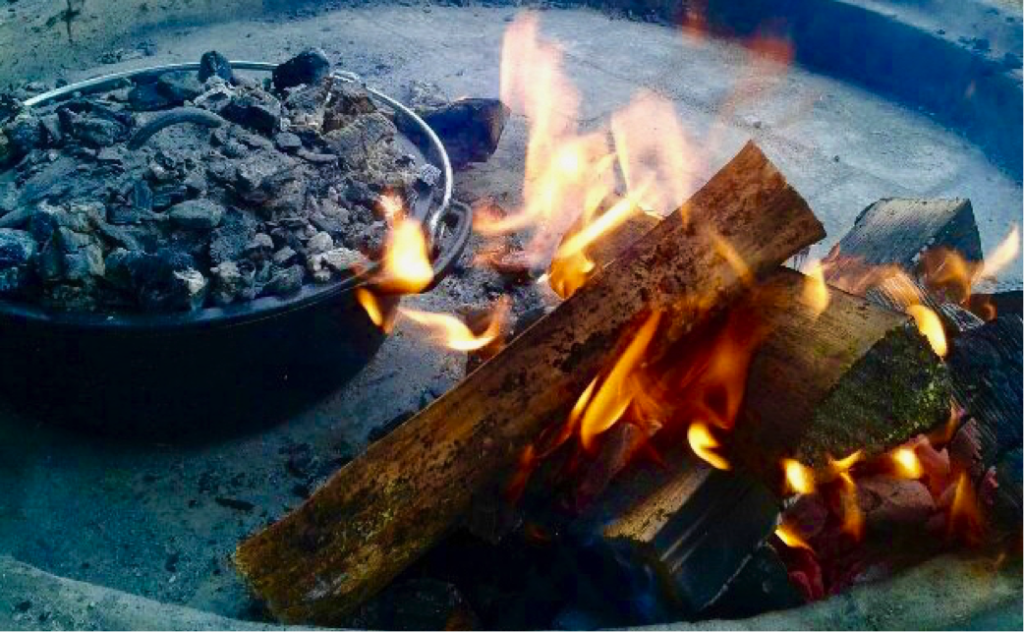 To bake a bread, a cake or a gratin, or whatever you like requires that you are there – in your mind, constantly present, watching your fire, adjusting the heat and making sure that your fire gives enough warm coals for the process. We therefore use both hot coals and wood in the fire. You need to lift the lid of the pot now and then, to see where more heat is needed and you may have to adjust the position of the pot accordingly. The lid can also be rotated, to spread the heat evenly, and the pot has to be rotated to receive heat evenly. Often the side that is facing the fire will heat much faster than the opposite side. Please make sure there' s enough distance, at least the width of the coal scoop (15 to 20 cm), between the bakepot and surrounding coals. Sometimes you need immediate heat, then put coals near the pot but watch closely what happens. Like we said it before, you need to be focused in the process of cooking and baking near the fire, it requires that you are there, with you pot all the time. The reward is the freedom while you do it! If you are many near the fire it's fun to share the moment and to help each other. It's not difficult to use a bakepot but you will have to find a method that works for your outdoor kitchen. The time it takes to cook and bake depends on your work near the fire, and how hot it is. That's why we use all our senses in this – we smell, we taste a lot and we listen to the sound of the bread when drumming on it. It's wonderful! If you decide to only have one pot, we recommend a bakepot, because it gives you the options of both baking and cooking. Our bakepots come in two different sizes. They are perfectly flat under and can be used on the stove, inside an oven, on a heated fireplace outdoors or on a tripod over fire.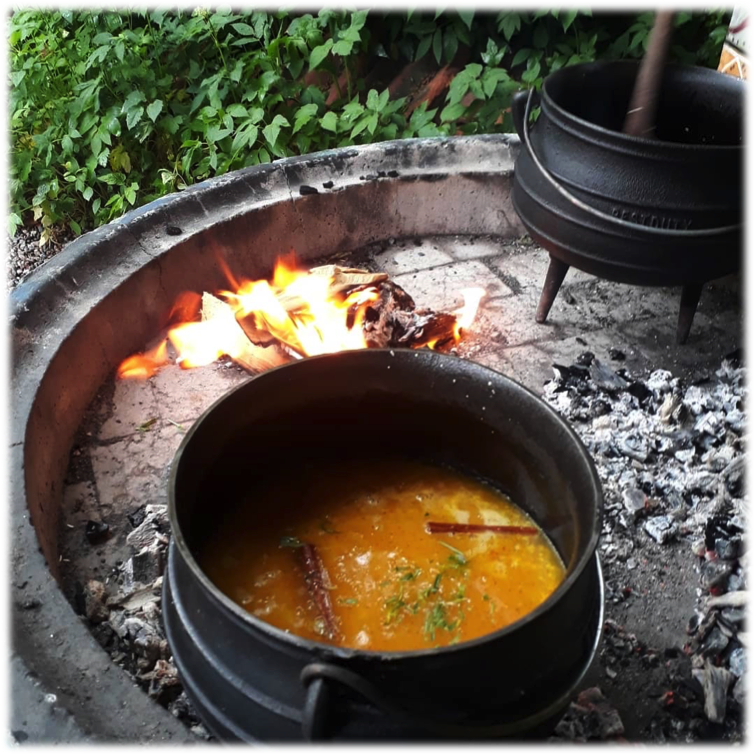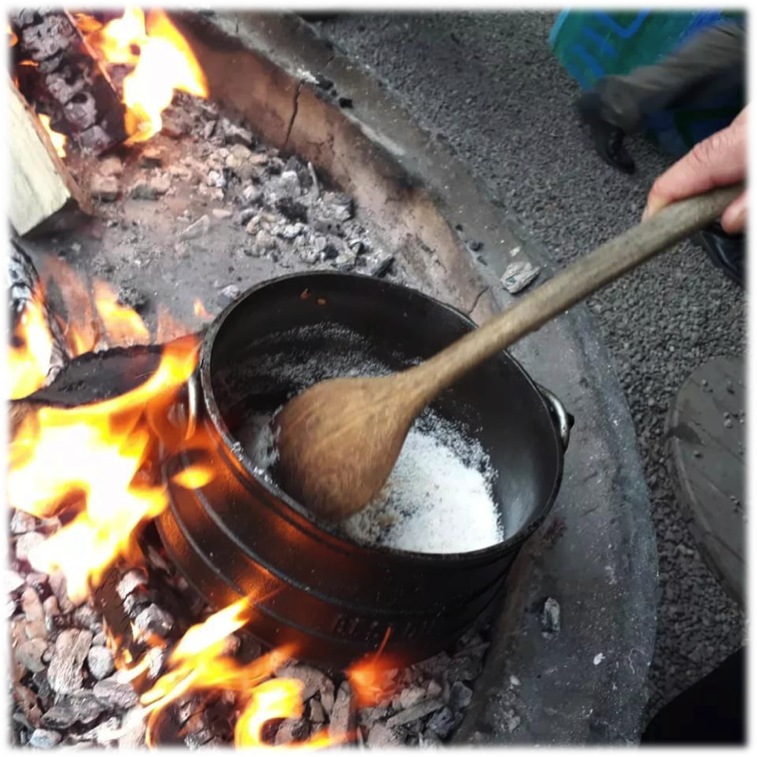 Are you also dreaming of an outdoor kitchen? A place for good times with family and friends. Like you see it here, have almost everything you need! We would love to hear more about your dreams, and can give advice about an outdoor kitchen that would suit your needs. If you are into constructing a freedstanding fire place of your own, here comes a rough picture to show you how we did it. Sorry that we only give this is Swedish. We cover our fireplaces in winter to avoid damages caused by ice and snow. There's a small aluminium pipe on the side. We made the top layer in a slight angle leaning towards that pipe, so that the pipe drains rainwater from the fireplace. Our fireplaces are partly under high roofs to protect the fire and our guests from rain.
More about potjies - click to download