Welcome to a new year with Taste of Africa – this is our eighteenth! As we write this, it's still January and the snow lies white on our roofs. When spring arrives, we will open Taste of Africa Farmstall and Café for three days over Easter. Then we are closed for some weeks until May, when we open again for the season, having the shop and Café open on Sundays. Also this year, our weeks will be "coloured in stripes", because the two activities Baobab Kitchen and Baobab Café will happen on separate days. This will allow us the opportunity to renew and refresh. We are available for guests that want to book Baobab Kitchen during the day, starting from 13 (one o'clock) during spring, summer and autumn. At the same time, it will allow us to stay open for one extra hour – until 17 (five o'clock) in summer time, when late afternoons are so pleasant. These plans are what we are hoping to do – but we may need to change them depending on unforeseen circumstances. Please, if you travel from far – give us a call to confirm, or send an sms (0702642109). We always have a recorded message on our answering service (unfortunately only in Swedish). Follow us on social media (@tasteofafricahedesunda, Instagram & Facebook) for an exact and prompt update of what is happening around us, including opening hours. Many thanks! Heartfelt warm welcome to us!
Baobab Café – just come – no booking required for smaller groups.
Please if you are a large party of 8-10, please let us know so we can prepare a space for you to sit together. When you come to us, you should stay for at least an hour, perhaps longer to absorb the peacefulness in our garden. Take a seat in the sun, on the lawn or under the roof. We will take your order at the table. Here we serve coffee with an automatic refill, so that it will last for a while. If there are long waiting hours, we will give you extra tea and coffee, on the house. Our 'chilli hot chocolate' made like Grandma used to do it, is to "long for", and so are our moist cakes and Nomsa's bread. We bake in African cast-iron pots, using genuine African recipes and carefully selected ingredients. We choose organic and locally sourced ingredients, where possible, and some things like milk, bananas, & cocoa, for instance, are always organic. We use real butter and much LOVE in our baking. The eggs are from outdoor hens on local farms nearby or organically labelled. There are always gluten free, lactose free, and milk free alternatives. Please ask and we'll let you know! In the Café, we serve no lunches, only cakes and breads etc. Our frequent guests gladly have lunch starting with Nomsa's bread, then one or more of our much appreciated cakes with icecream, an exotic fruit salad, or pannacotta. Click here to read about
Baobab Café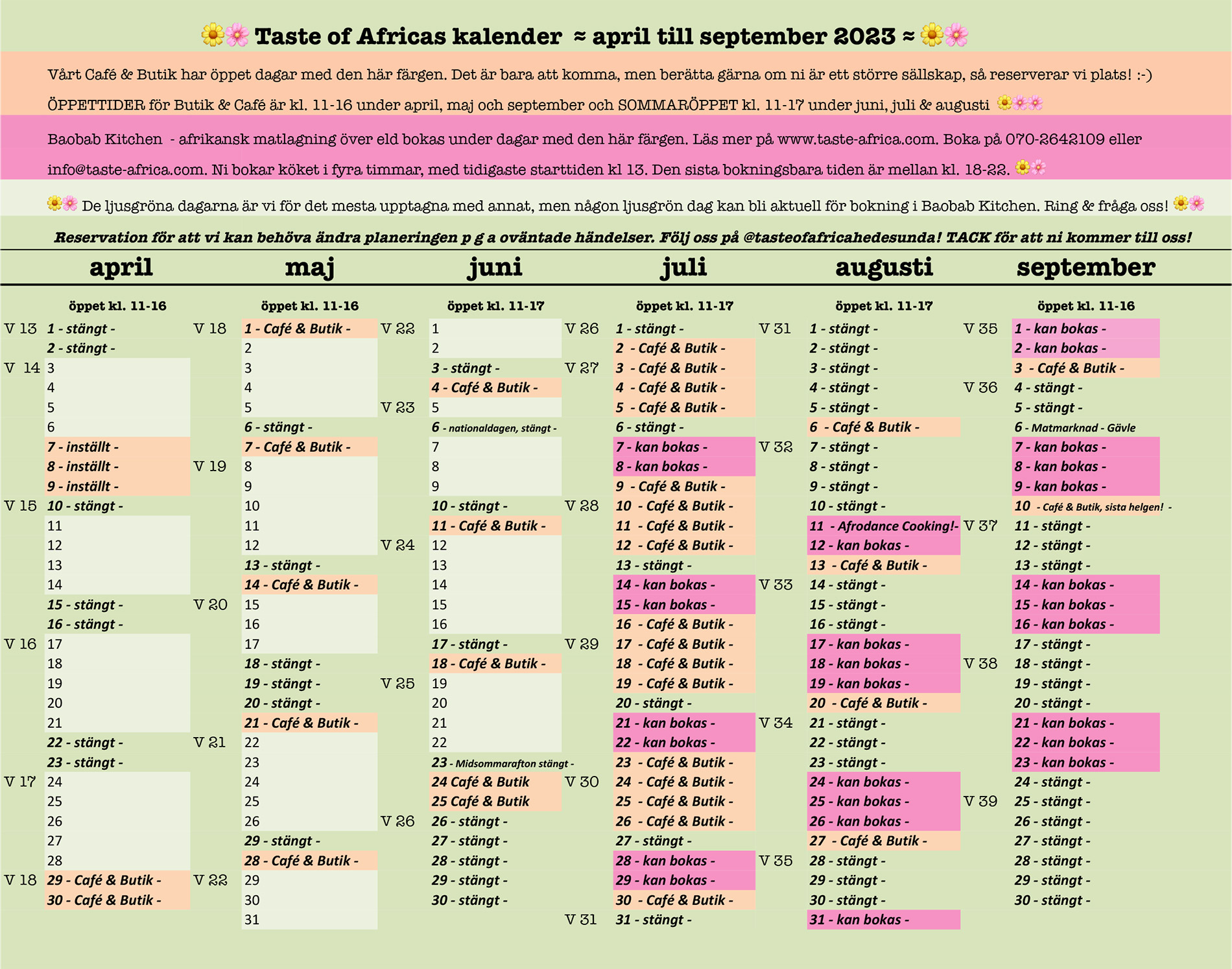 Afrodance cooking – 11th of August- an open evening in Baobab Kitchen with Cosmos Azoba
It's the nineth year that we arrange Afrodance cooking in Baobab Kitchen. It's an evening in Baobab Kitchen that you will never forget! Come alone or in a group of friends and join us when we cook over fire. Your fantastic meal is served in the light of safari lamps, oil torches and the fires. The dance will take place at the end, with our friend Cosmos Azoba, an accomplished dance choreographer that will engage you in a fun dance routine that suits everybody. Bring comfortable shoes and a happy spirit for night to remember, with great food and many new friends. Book through email to info@taste-africa.com. The price is 770 kr, and it includes the dancing. Children under 15 will get a discount. When you make a booking, please let us know your wishes regarding allergies, gluten, if you're vegan etc. We will create a menu that suits everybody. We'll let you in on more details at the time of your booking. Our maximum number of participants is 30 so don't wait too long before you book. Warm welcome! We speak English, Afrikaans & French – all nationalities welcome!