About the Taste of Africa Brand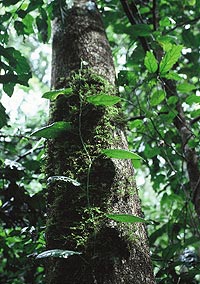 We give something back – we plant trees.
Read more and find out why Taste of Africa donates 4% of the selling price of spices to a tree-planting project around Lake Victoria.
Since we started this project, close to 1000 trees have been planted. We thank all of you for buying our spices and helping us to continue planting more trees.
We are shortening the chain. The Taste of Africa brand brings you closer to Africa, and to the people that made your product. For a growing number of carefully selected products, we have personally designed the product and the packaging together with the South African producers.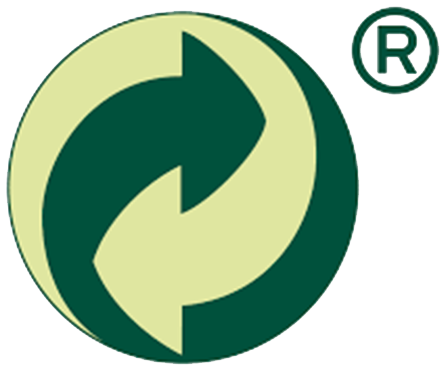 All our products are labelled with the Green Dot, which is a symbol showing that we have paid for our products to be recycled in Sweden. Instructions for recycling are on the packages. The Taste of Africa brand is a registered trade-mark in Sweden. 
The four small images that belong to the brand Taste of Africa, were hand-painted by a 10-year old Kenyan boy. He sold his cards at a car park when we passed Kisumu near Lake Victoria in December 2002.
We want to give him something that can change his world and give new opportunities, also to other children in East Africa that cannot afford to attend school. Therefore, Taste of Africa donates 4% of the selling price of our spices to a tree-planting project around Lake Victoria (www.viskogen.se) ). Vi-skogen encourages people to grow their crops together with the trees. This stops soil erosion. Simultaneously they get an income, access to firewood, building material, fruits, medicine, fodder, and shade. We wish that our artist might get the chance to grow along with the trees that are being planted.

Products in the Taste of Africa range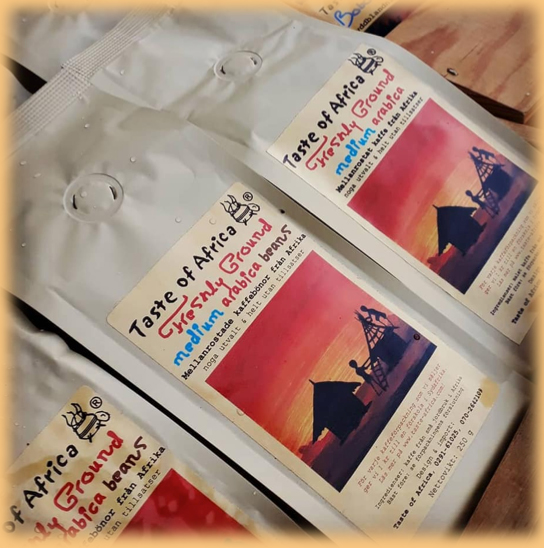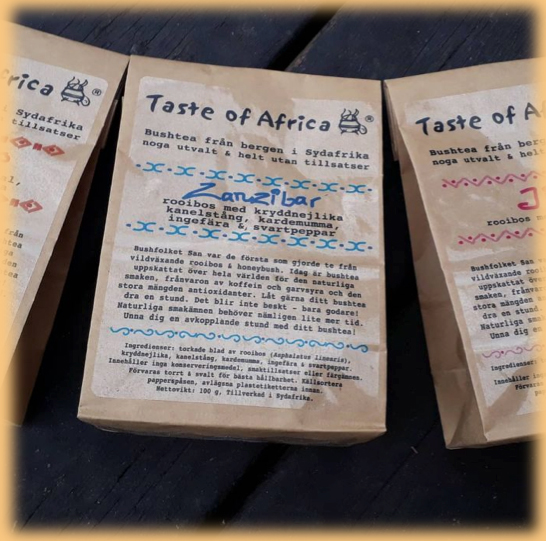 Taste of Africa's seasons and retail shops
Summer in Sweden is way too short but at the same time, absolutely fantastic with all visitors that come to see us. It's always a busy time and a lot of fun! Since 2005, when we started our business, we need to touch down in Africa every now and then. We are inspired by South Africa and it's here we find it – in the winding streets of Cape Town, at colourful vibrant coffee shops, in charming countryside farmstalls and at food and handicraft markets. It's authentic and we love it! Here we develop our brand, working with local businesses, artists, chefs and graphic designers. Selected with genuine flavour and feeling, we create from a clean slate, turning s ideas into a designed ordered product.
Because of the very short season in Taste of Africa Farmstall, Baobab Kitchen and Café – only six months – it's invaluable that you, dear customers also shop from our carefully selected retailers. We are happy to receive orders on the Internet, even though we will never become a fully-fledged e-commerce business. And even better is to see you at the markets, where we occasionally also sell our products, more often around Christmas time.
We wish to say THANK YOU for buying from us and for supporting our business. It helps us to stay curious, persistent and creative entrepreneurs! We are swiftly going towards celebrating twenty years in business, and would like to carry on for many more years to come. We can – because we think we can – and because you all say that we can!
Local retailing shops (2021-2022):
Arnas Event, Lofsdalen, @carola_arnaryd; Gröna Kullen Trädgårdsbutik, Strömsbro, @gronakullen; Gröna Källan, Älvkarleby @gronakallan; Ica Nära Hedesunda; Madame Nyberg, Valbo @madamenyberg; Vinnersjösdiversehandel, Hedesunda, @vinnersjosdiversehandel.
Retailing shops in Sweden:
Little Britain, Gamla Stan, Stockholm,@littlebritainshop; The British Shop, Göteborg @thebritishshopgbg; Taste of Britain Malmö, @tasteofbritainmalmo