Taste of Africa Farmstall
Our farmstall is housed in an old stable. Two different worlds come together in a feelgood mix. The worn threshold and the hoofmarks on the timbered walls tell us about Saga and Munter – two large Belgian horses that lived here when our home was a working farm in the 1950's. They pulled timber from the forest with farmer Johansson. But since 2005, there is lots more to this stable – there is a Farmstall carrying a mosaic of impressions from our trips to South Africa. At the southernmost tip of Africa, where we have our other base, people from the whole continent meet and trade with each other. This has been happening for centuries, with ships leaving Cape Town harbour and sailing out into the world. It's between these two worlds that we travel. Finding inspiration and handcrafted things, often with colour, joyful and surprising shapes. Everything is carefully selected. We love useful things that can inspire your every days and festive days. It is easy to find lovely presents in our shop – perhaps for yourself or for that someone you like.
Let's walk into the shop… the ceiling has shackles hanging from the rafters, carrying vibrantly coloured cloths, shawls and sarongs. Glowing roof sheets now cover the hoofmarks, which makes us think of the small, but brightly painted houses around Cape Town. They transport us to those narrow cobbled streets, and the smells of spices and grilled food.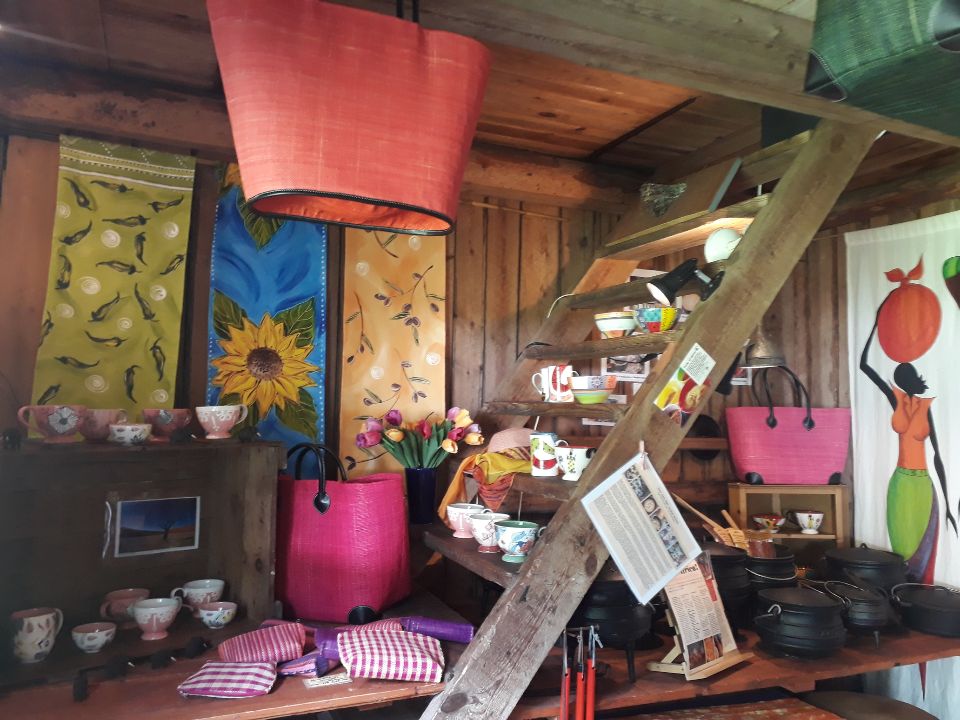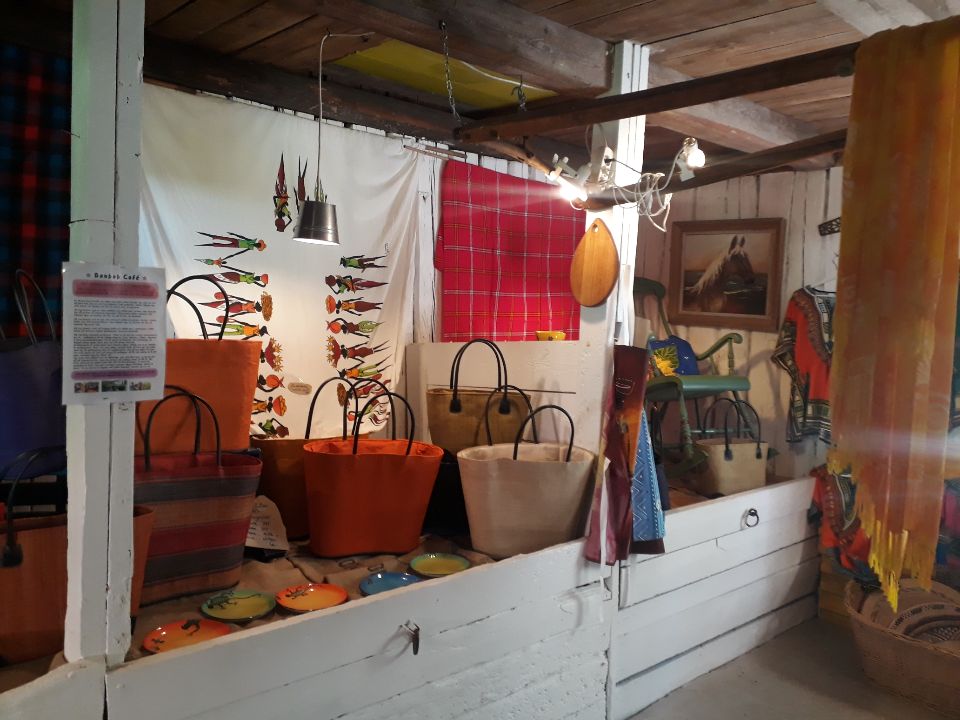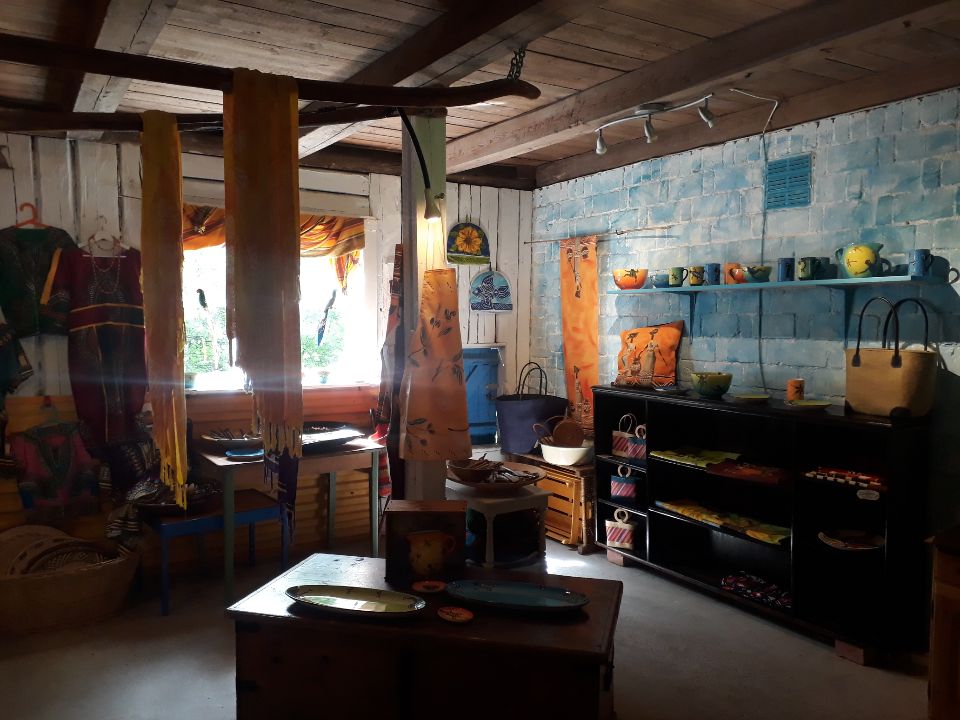 The wide feeding troughs of the stable now display beautifully weaved grass baskets. There are large colourful hand baskets and hats of sisal. They were made by crafters from East and Southern Africa – Kenya, Tanzania, Madagascar and South Africa. The wooden handicraft is from sustainable forests. Carved Kenyan birds in strong colours. There are wooden spoons made of wild olive tree with shafts of cow's bone, with patterns and shapes that have been used for generations. There are handmade batiks, painted cotton tablecloths, cushion covers, aprons. Wire craft made from recycled metal and thread. Beautiful soapstone carvings from Kenya and Zimbabwe – lovely presents sharing their passages of life, because they say more than words.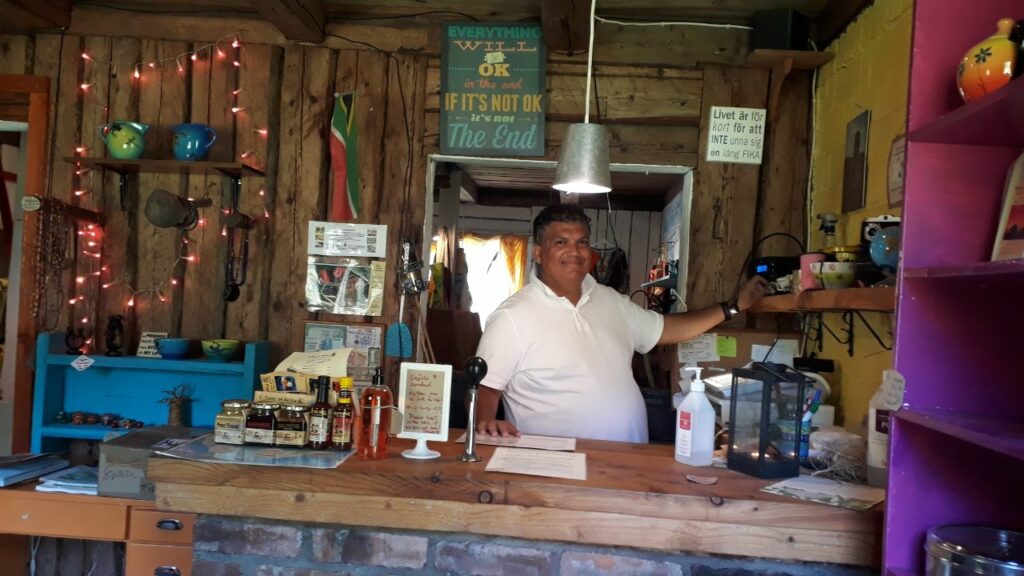 On the stairs leading to the hayloft, unique household ceramics now stand, coming all the way from the southernmost tip of Africa. These items will be your friends for life. All ceramics are carefully selected with the variation that comes with handcrafted things. Sorry, we do not send any ceramics in parcels to customers. No, these mugs, plates and bowls have travelled very far along the African coast and they have been reloaded several times. They are now safely unpacked without damages – whole and absolutely wonderful. Like in all art expressions, there's a love and a story. Many times you will find the unexpected, something irresistible. It's difficult when customers ask us to buy a plate that looks exactly the same. It's almost impossible when it comes to handicraft. Sometimes, you will find another plate, just as beautiful. Therefore, feel that all items are unique, just like the very moment when you are visiting our shop.
All ceramic glazes are toxic free. The ceramics can be washed in the dishwasher, but if washed by hand with a gentle detergent, they keep their lustre longer. Many visitors collect our ceramics and buy one new mug every year. We think it's a lovely way of collecting :-)!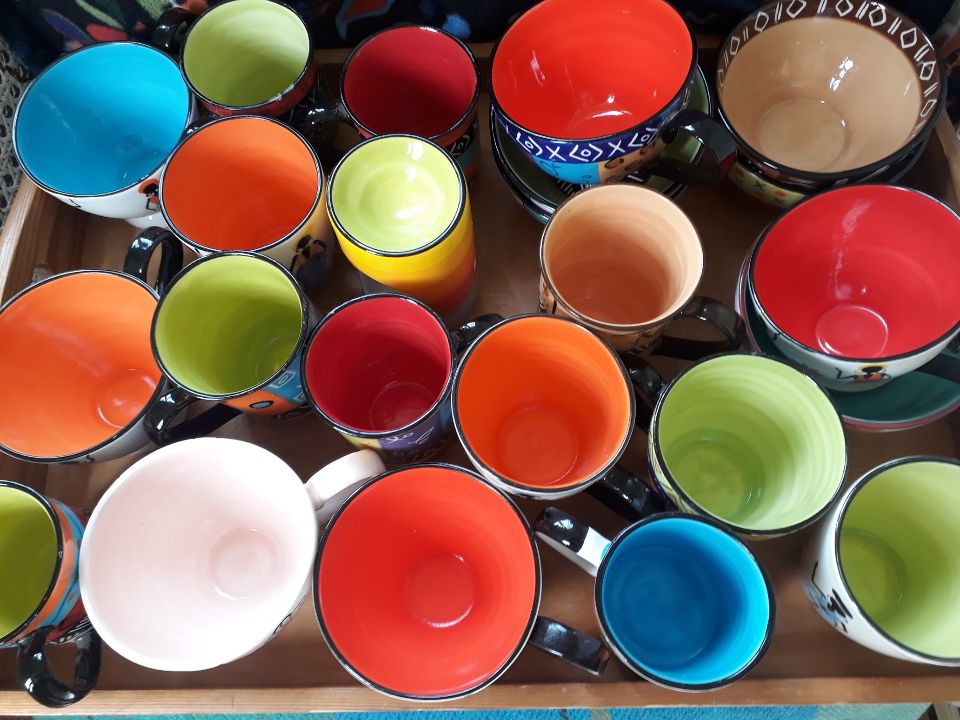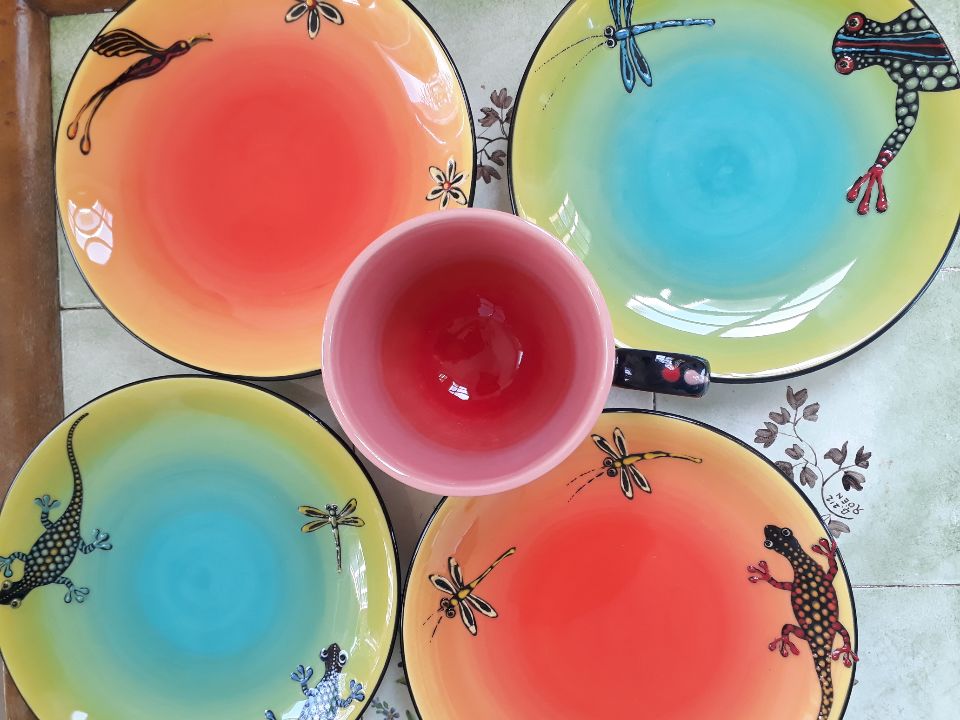 Below the stairs are the African cast-iron pots in different sizes – South Africans call these 'Potjies'. The table they stand on, was made from the first crate that came with goodies from South Africa in 2004. Many potjies have sailed across the Atlantic since we started. We would love to tell you more about how you can create a place in your home or garden where you can get together and cook over fire. Hopefully, you will be inspired by these African cast-iron pots / Potjies. They lie very close to our hearts because potjies are the foundation of our business Taste of Africa.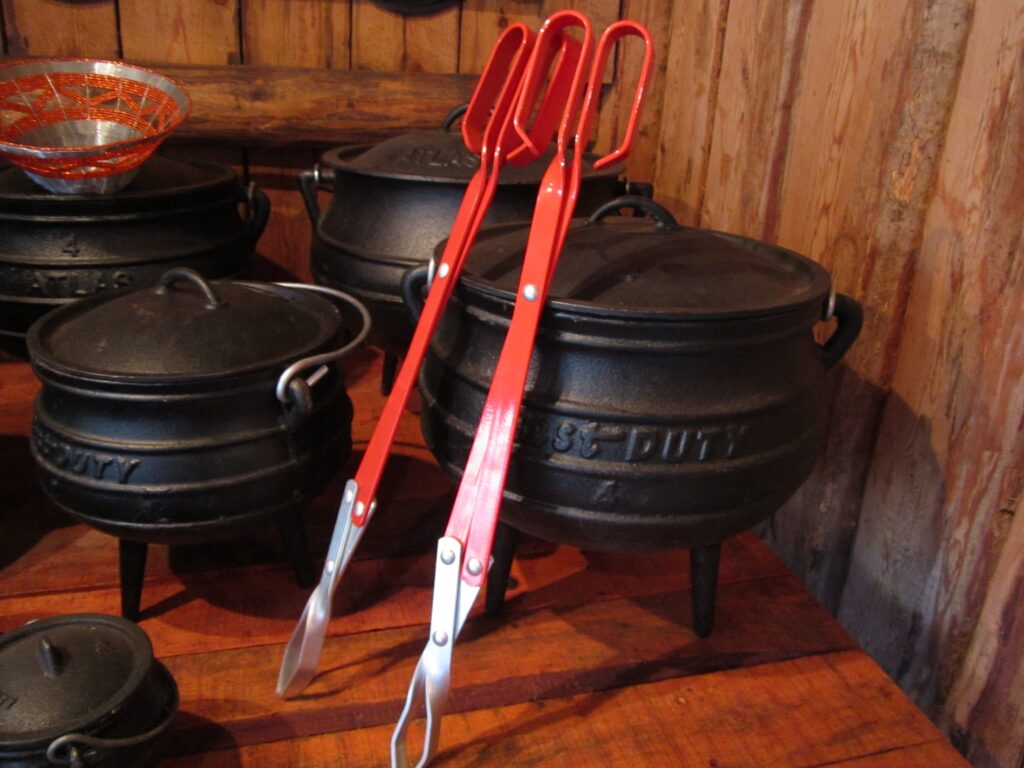 Many people come to visit our shop for new flavours. We love to share ideas and recipes. We see cooking as a creative process where shared joy is double joy. Several recipes have come to us through you – our dear customers. Here, you can taste most of what we sell – hot sauces, chutneys, mustards and our own spice mixes. You can taste our own brand of bushtea and coffee blends, Freshly ground arabica, in Baobab Café, and it's also sold in the shop of course!