Product: Sun Dried Fruits
All the way from some of South Africa's most fertile fruit cultivations, it lies in front of you. A little package, filled with pure solar energy. Its' flavour is rich and profound, sometimes sour, sometimes sweet; sometimes it melts on your tongue. And always, it makes you want more…and it doesn't taste like anything you've tasted before.
This is not just any dried fruit, it is our offer to "Kick-Start" your day. Take it!
Our flavours of sun dried fruits:
It was the San, Bushmen, who first made tea from the finest shoots of wild growing rooibos and honeybush. Our labels are a grateful tribute to the San bushmen who taught us so much without getting much in return.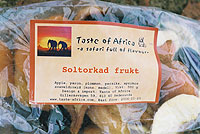 Sun dried dates with yoghurt (Click here to order)
Dates that taste like sweets! Eat them just as they are…and it's difficult to stop once you've started!
Ingredients:
 Sun dried dates without stones, 
skimmilk powder
, 
whey powder
, vegetable fat, 
lactose
, citric acid, emulsifier lecitin E322 (contains 
egg
 & 
soy
), emulsifier E475, flavourant. Netweight: 100 g.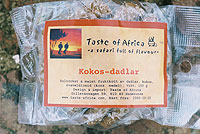 Sun dried fruit (Click here to order)
Sun dried fruit in juicy pieces. Eat it just like it is, mix into muesli, or use in cooking.
Ingredients: Pieces of apple, pear, plum, peach, apricot, preservative sulphur dioxide. Netweight: 500 g.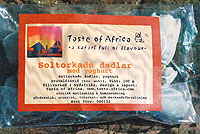 Coconut-dates (Click here to order)
These are delicious as a natural sweet!
Ingredients: Sun dried fruit pulp of seeded dates and pears, ground coconut, preservative sulphur dioxide. Netweight: 150 g.